< Back to Chimney Sweeping & Cleaning Services
Cleaning Liners for Gas Appliances – Fireplaces, Water Heaters & Furnaces
Gas appliances rarely need to be cleaned as part of normal maintenance. There is only a creosote buildup if problems exist with the burners or parts of the firing system. If that happens very large quantities of soot build up rapidly and do need to be swept.
Blockages in the liner caused by nesting birds and squirrels are a common occurrence and need to be cleaned.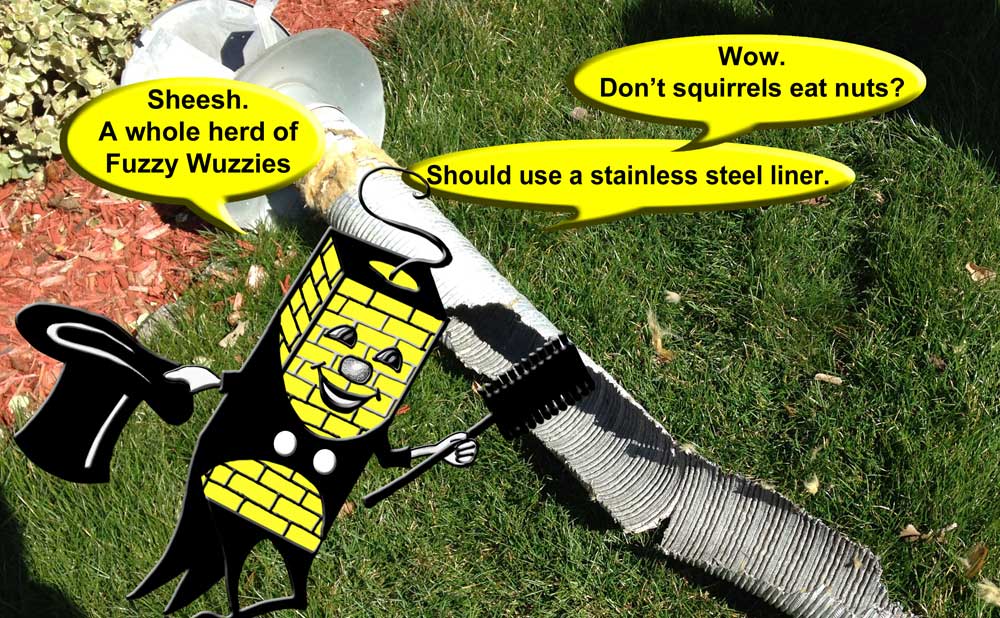 (Click here to follow Mr. Happy Chimney as he cleans up a big mess left by some squirrels)
– Many, if not most, raincaps installed on gas appliances are not well designed to keep birds and squirrels out. If this is the case, after the blockage is cleared, it is prudent to install a properly designed raincap to keep the same problem from happening again.
– Also, most gas liners are constructed from aluminum. While being relatively inexpensive, aluminum liners are easily torn and subject to corrosion from acids in the gas exhaust.
– We have seen aluminum liners chewed right off at the top by squirrels wanting to nest and many simply break open from corrosion.
– Stainless steel liners are a much better option.
Please Call or Email today to book your Sweeping and Cleaning Appointment.
Cleaning Gas Liners
The Main Sweeping and Cleaning, "How We Clean" section applies. The information below is specific to blockages in gas appliance liners.
– The liner is detached from the water heater, fireplace, or other gas appliance to check for obvious signs of nesting or other blockages.
– The raincap or termination is removed from the top to inspect from there as well.
– Birds or squirrels that are present need be encouraged to leave the chimney.
– The aluminum liner may very well be corroded through or have pinholes in which case the liner will need to be removed and replaced with a new one. This is often a prudent course of action as the liner is often damaged or corroded by nesting.
– If the liner is still in good shape the blockage is carefully removed, usually from both top and bottom, with special tools and brushes designed for the job.
– Once the blockage is completely cleared it is re-attached to the appliance.
– The work area is swept and vacuumed and left clean.
Dig Deeper
Want to learn more about how we clean specific types of chimneys and systems? Click on the links below to learn more!
Happy Chimneys
We love making chimneys happy again. Drag the yellow box below the image to see how we make an un-happy chimney happy again.