Rain Caps


Mr. Happy Chimney is proud to install high quality stainless steel rain caps manufactured by Chim-Flex Tubing, right here in Waterloo. They are the best designed and highest quality rain caps available anywhere, with pricing that is competitive with anything on the market.
They come in a wide variety of standard sizes, and can be custom manufactured to any specifications, usually within a day or two.
Call or Email today to have a High Quality Rain Cap Installed
Are you looking for a Rain cap for a custom size and application? Click here!
Rain Caps perform 2 basic functions and should do them well.
1) Keep Water Out      2) Keep Birds and Animals Out
Our Rain Caps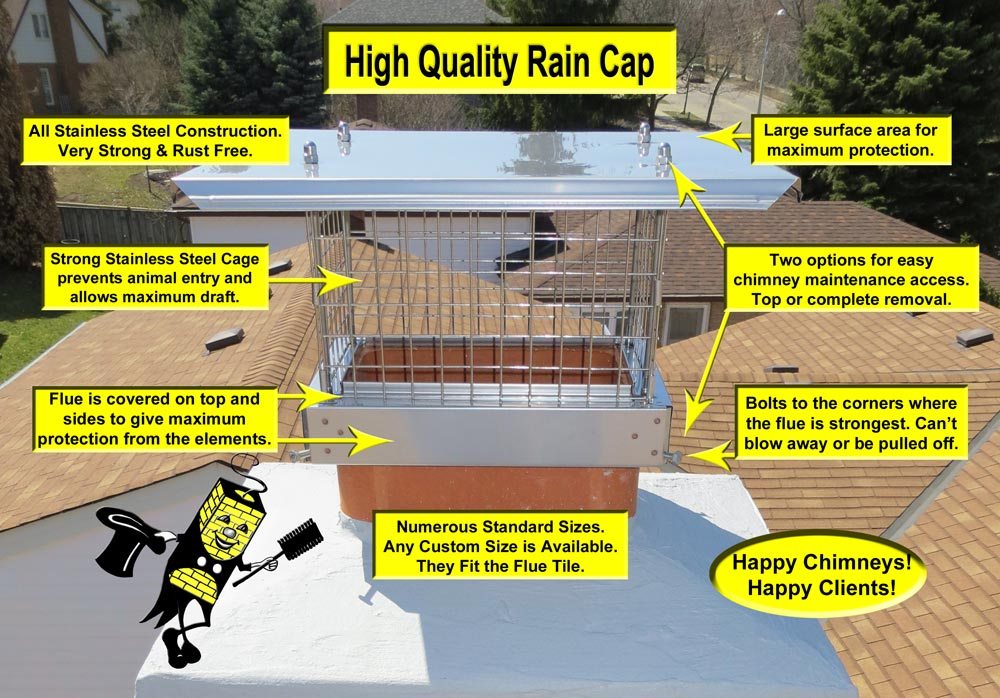 are manufactured from strong, high quality stainless steel.
bolt on at the corners of the flue tile.
have lids with very large surface area.
have a cage made from large gage welded stainless wire. They are very strong, with the hole diameter sized to keep any critters out, while at the same time, maximizing draft and minimizing the potential for creosote buildup.
have a full flange that covers the top surface of the flue tile as well as the sides for a couple of inches down.
are the right size for the flue. They are manufactured in a wide variety of standard shapes and sizes and can be custom made to any size almost immediately. We install the proper size.
can be removed in 2 different ways for cleaning. The bolts are stainless and never rust so it is easily removed and reinstalled. Also, the lid is attached with stainless lug nuts so in some situations it is convenient to just remove the top for cleaning.
Dig Deeper
Want to learn more about Rain Caps and why they are important? Click on the links below to learn more!
Happy Chimneys
We love making chimneys happy again. Drag the yellow box below the image to see how we make an un-happy chimney happy again.